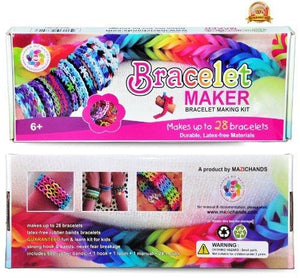 ➽ PERFECT GIFT for Birthdays, Christmas, Kids, Sisters, Special Occasions, Sleepover Parties, Giveaway and Holiday. Great for young, innovative and creative crafters. ► Naughty kids have LITERALLY BEGGED for this and you have IGNORED. NEVER LET THAT HAPPEN AGAIN. ★ Let them be creative with our Super Easy to use Bracelet Maker Kit ★

➽ Create unlimited Charming & Colorful Friendship Bracelets, Necklaces, Rings and More! GUARANTEE fun & learn time for kids & crafters. Keeps busy for hours doing fun activity and actually improving dexterity and concentration power. ► Get ADDICTED to Crafting & Creativity. ★ All the rage and You are a STYLE ICON among friends ★

➽ Includes: 24 C-clips, 1 Extra Strong Hook, 1 Unbreakable Loom(NEVER FEAR BREAKAGE), 1 Instruction Manual and 600 latex-free(100% SAFE FOR KIDS) mixed color rubber bands. ► FREE ACCESS to UNLIMITED collection of BEGINNER VIDEO & PDF tutorials. ★ Create COLORFUL bracelets in just 5 minutes video ★

➽ COMPLETE 30-DAY NO-HASSLE FREE REPLACEMENT GUARANTEE! ► PLEASE WATCH OUT Counterfeit Product. ❤ We VALUE and LOVE YOUR EMOTIONS attached with us ❤

➽ CLICK "ADD TO CART" NOW! Let creativity explore and begin the journey to fun & learn! ► ► HURRY UP! Join the growing popular CRAFT CLUB NOW!