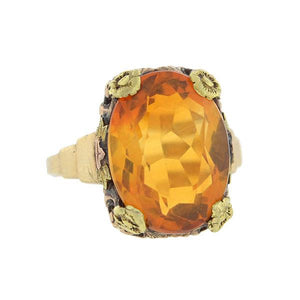 A beautiful and artistic citrine ring from the Arts & Crafts (ca1910) era! At the center of this eye-catching ring is a faceted madeira citrine stone, which rests in a 10kt gold mixed metals setting. The madeira citrine has a rich, warm color and is held in place by four prongs that resemble flowers. A feminine mixed metals design depicting delicate rose gold flowers and leaves decorates the sides. A simple step-up design decorates each shoulder of the ring, and the smooth yellow gold band is stamped "HAND WROUGHT" and "10K" inside. An absolutely gorgeous ring, it looks stunning when worn and make a special addition to any collection!

Measurements: The ring has a finger size of 6.25 but could easily be re-sized. The face of the ring measures 5/8" tall, 1/2" wide, and rests 1/4" above the finger when worn.

Condition: The overall condition of the ring is excellent. Besides normal surface wear, there is no apparent damage to the gold setting or mixed metals design, and the citrine stone is intact.