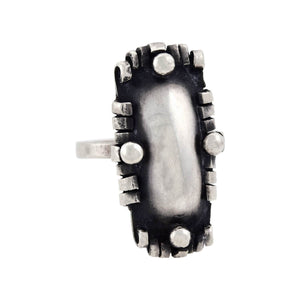 A beautiful and unique ring from the Arts & Crafts (ca1910) era! Crafted in silver, this hand wrought ring features a wonderful elongated rectangular shape at the center of a simple band. The edges of the face appear to curl into themselves, and 4 smoothly polished beads embellish each side, all providing a wonderful textural appeal to the design. The center of the design is slightly convex in shape and smoothly polished, perfectly contrasting with the natural darkened patina on the edges. The centerpiece rests on a simple band that wraps around the back, and stamped on the shank is a Dutch hallmark of a "I" beside a faded hallmark. A wonderful example of the Arts & Crafts Era aesthetic, this artistic ring makes a beautiful statement piece when worn!
Measurements:
 The ring has a finger size of 7.5, but could easily be resized. The centerpiece measures approximately 1 1/8" tall, 5/8" wide, and rests 1/4" above  the finger when worn.
Condition:
The overall condition of the ring is excellent. Besides normal surface wear, there is no serious damage to the silver setting. There is a natural darkened patina within the grooves of the piece, which is normal and adds depth to the design.