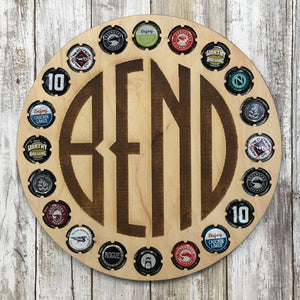 Bend Oregon Craft Brew Bottle Cap Display

Display your Central Oregon bottle cap collection on this hand made wood cap display sign.  It holds 20 beer caps securely.
The sign measures 12 inches in diameter.
This is my own design and it is made with baltic birch plywood which I cut the design out with a laser engraving machine.  Then I give it a light coat of stain and varnish it.  It can be stained a different color if you like, just send me a message.  I can also make custom beer holders with your state or name or whatever you can come up with.
***Bottle caps not included***