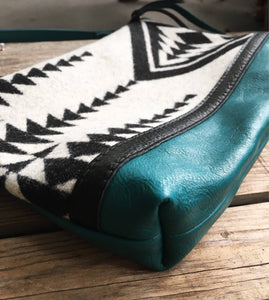 The Blanco Verde! Simply stunning! 
This bag is made from high quality vegetable tanned teal leather and black and cream colored Walking Rock Pendleton® print with a black leather accent. All stitching in black.
**The teal color is particularly difficult for me to get an accurate photo of. I've edited to as close as I could. The most accurate representation is the color only photo. Please know that it is a beautiful deep rich color, with green undertones. It is teal, not blue.**
This bag is 12"x8" with a gusseted bottom. Unlined on the inside with a 6"x9" pocket. The zipper pull is attached to a strip of 3 layers of leather for easy open and close. This bag comes with a 31"-54" adjustable crossbody strap. Straps are removable with swivel hooks. Zipper, rivets, rings, and clasps come in antique bronze.
Please note that leather is an organic type material. Meaning that many things happened to the leather in its previous incarnation as a live animal. Bug bites, scars, & brands are normal occurrences and add to the uniqueness and beauty of the hide. I never select parts of the hide that are damaged or have holes however, these other unique characteristics may be present.
All items are edited to reflect the most accurate color. We cannot guarantee that your item will be the exact color your screen shows.
*Made to order. Ships in 3-5 business days