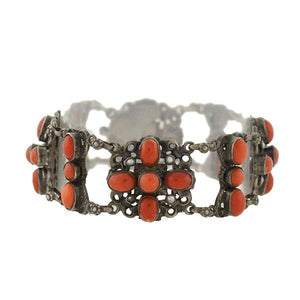 A beautiful oxblood coral bracelet from the Arts & Crafts era (ca1900s)! This wonderful Austro-Hungarian piece consists of 8 silver links, forming a very artistic bracelet. Set within each link are multiple coral cabochons, which rest in closed-back bezels. The coral displays a rich, vivid color known as "oxblood," which is naturally occurring and un-dyed. Surrounding the cabochons are decorative filigree borders, adorned with delicate natural seed pearls. The underside of the piece displays a fantastic filigree backing, which was common among Austro-Hungarian jewelry of this era. Delicate floral loop connectors give flexibility to the design, and a secure push clasp is disguised within the final link. A beautiful statement piece, it is perfect for the coral lover's collection!
Measurements:
 The bracelet measures 7" long, and would fit nicely on a medium/average sized wrist. The larger links measure 7/8" in diameter, and the narrow links in between measure 7/8" tall and just over 1/4" wide.
Condition:
 The overall condition of the bracelet is excellent. Besides normal surface wear, there is no apparent damage to the silver setting or to any of the oxblood coral cabochons, all of which are intact. The push clasp is secure and in good working condition. There is a natural patina on the surface of the silver that gives it a darkened look, which is a normal characteristic of antique jewelry.