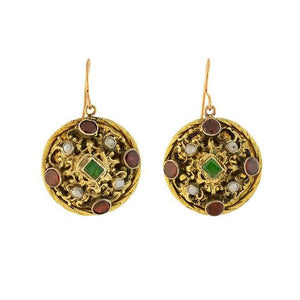 An artistic pair of Hungarian earrings from the Arts & Crafts (ca1910) era! Crafted in gilded silver, these beautiful earrings are round with a slight convex shape, showcasing an ornate filigree and gemstone design. A luscious emerald and four deep red garnets adorn the surface, adding a rich pop of color! Nestled between the gemstones are four natural pearls, whose soft luster is the perfect compliment to the colorful stones. All of the stones and pearls are bezel-set above the gorgeous twisted wirework details. Completing the design is a rich gilt finish, which remains on the surface but has been polished away on the back. When worn, the earrings dangle from simple wires at the top, framing the face beautifully. These elaborate and unusual earrings are a lovely example of traditional Hungarian jewelry from the Arts & Crafts era, and would make a special vintage accessory!
Measurements: Each earring hangs approximately 1 1/2" long (including the wire), measures approximately 1" in diameter, and has a depth of approximately 3/8".
Condition: The earrings are in good antique condition. Besides normal surface wear, there is no apparent damage to the silver gilt setting or earring wires. All of the gemstones and natural pearls are secure and intact. There is a tiny indent to one of the natural pearls, which could be a natural occurrence; regardless, it is not noticeable when worn.