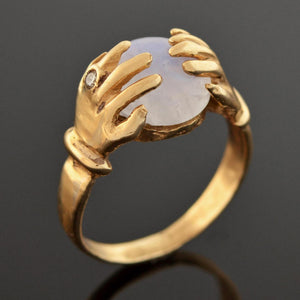 A beautiful and unique moonstone ring from the Arts and Crafts (ca1910) era! This fabulous and unusual 3-dimensional piece depicts the hands of a fortune teller holding a moonstone or "crystal ball" at the center of a 14kt yellow gold band. The smoothly polished hands appear to grasp towards the center of the round cabochon stone which displays iridescent properties, natural inclusions, and a pale blue color that flashes beautifully in the light. A Single Cut diamond adorns the ring finger of one hand, a perfect sparkling accent, and a cuff at the base of each hand forms the shoulders of the alluring ring. Mysterious and beautiful, this artistic ring looks magnificent when worn and would make a unique addition to any collection!
Measurements: The ring has a finger size 7.5, but could be re-sized. When worn, the moonstone centerpiece measures approximately 5/8" wide and 3/8" tall, and rests about 1/4" above the finger. The tapered band measures 2mm wide at the back.
Condition: The overall condition of the ring is excellent. Besides normal surface wear, there is no serious damage to the gold setting and the moonstone and diamond are intact and securely set.