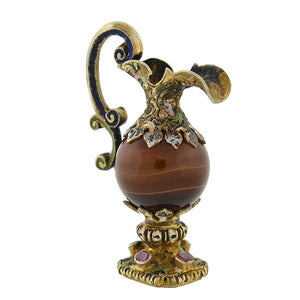 This decorative fob from the Arts & Crafts era (ca1880) is a wonderful Hungarian-made piece! The fob is crafted in silver gilt and forms the shape of a 3-dimensional urn. Forming the center is a large banded agate bead, which rests between a structured base and a flowing handle at the top. An enameled pattern decorates the engraved silver setting, adding soft white, blue, and green accents throughout. Four luscious gemstones are bezel set around the base, and a smooth banded agate seal can be found at the bottom. Both banded agate stones have wonderful natural coloring that includes rich, deep brown with stripes of creamy white. The freestanding piece would look wonderful hung from a chain attached to the handle and worn as a unique pendant!
Measurements: The fob stands 1 1/2" tall, measures 1" at the widest point, and is about 1/2" thick.
Condition: The fob is in good antique condition. There is some surface wear to the setting and enamel detail, which is commensurate with age and does not detract from the unique character and beauty of the piece. All four gemstones and both banded agate stones are intact and free of chips or scratches. Some of the enamel pattern is no longer intact, and a natural patina on the surface of the silver gilt setting gives a darkened antique appearance to the piece.