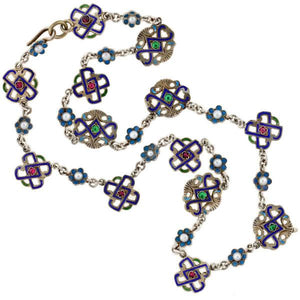 A beautiful Hungarian necklace from the Arts & Crafts Era (ca1910)! This artistic piece is comprised of decorative silver links that form a lovely chain. A royal blue and green enameled border surrounds the vibrant green and red paste cabochon stones at the center of each filigree link. On the opposite side of the links is a pattern of lightly engraved dots, adding subtle texture to the design. The back of the center link has a hidden hook that can be used to hang a complimentary pendant or locket if desired. Alternating with the filigree links are delicate blue enamel flowers with pearl centers. The necklace fastens with a secure hook clasp in the back and drapes nicely along the neckline when worn. A gorgeous Hungarian piece, it would make a lovely addition to any jewelry collection!
Measurements:
The necklace measures approximately 18 1/2" long from end to end. The filigree larger filigree links measure about 3/4" long and 5/8" tall. The smaller filigree links are 1/2" wide and tall. The small flower links have a diameter measuring slightly more than 1/4".
Condition:
The necklace is excellent antique condition. Besides normal surface wear, there is no apparent damage to the silver setting or enamel details. All of the pearls and colored paste stones are intact. The hook clasp is secure and in good working condition, and the center hook is also intact.