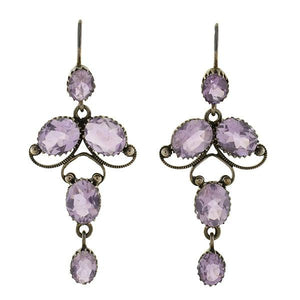 A gorgeous pair of amethyst earrings from the Arts & Crafts era (ca1910)! These beautiful earrings are crafted in sterling silver and have an elegant lavalier design. Each earring incorporates an ensemble of amethyst stones, which are beautifully faceted and have a lovely shade of light purple. The setting has a flowing curvilinear appeal, with engraved and beadwork accents that compliment the gemstone design. A simple earring wire is attached to the top, and the earrings dangle with elegant movement when worn. A beautiful example of the Arts & Crafts era aesthetic, the earrings would look spectacular worn day or night!
Measurements: The earrings hang 2 1/4" long, measure 1" across at the widest point, and are 1/4" thick.
Condition: The earrings are in excellent antique condition. Besides normal surface wear, there is no apparent damage to the sterling setting or to the amethyst stones, all of which are intact and securely set. There is a natural patina on the surface of the silver that gives an antique appearance to the setting, which is normal and adds depth to the design.