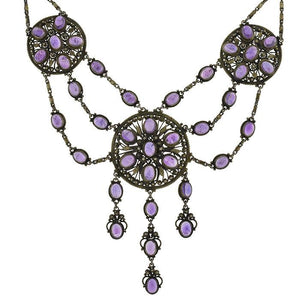 An elaborate amethyst necklace from the Arts & Crafts period (ca1900)! This magnificent piece is made of gilded sterling silver, and has a very decorative festoon-style design. Three circular links form the centerpiece, connected by 3-tiered strands of chain. Each incredibly ornate link has a filigree design complete with twisted wirework and raised beadwork accents. Set within the links are beautiful amethyst cabochons in bezel settings, adding a gorgeous natural purple hue. The strands of chain that connect the three links together are comprised of amethyst cabochons that alternate with silver gilt accents. Dangling from the largest center link are three strands of amethyst cabochons, which dangle freely and are surrounded by swirled wirework settings. The necklace fastens at the back of the complimentary chain with a secure spring ring clasp. A spectacular example of Arts & Crafts era jewelry, this outstanding necklace drapes beautifully at the neckline and has quite a spectacular, dramatic effect. It would make a magnificent addition to any collection!

Measurements: The necklace measures 16" long from end to end. When worn, the centerpiece drapes approximately 3 1/2" long in the middle (from the top of the center link to the bottom of the hanging center strand of amethyst cabochons). The largest center link has a 1 1/2" diameter. The two outer links have a 1 1/8" diameter. 

Condition: The overall condition of the necklace is excellent. Besides normal surface wear, there is no apparent damage to the sterling gilt setting. All of the amethyst cabochon stones are intact and display subtle natural inclusions. The spring ring clasp is secure and in good working condition. There is a natural patina on the surface of the silver gilt setting, which is normal and adds dimension to the design.