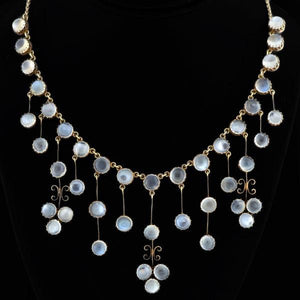 A dramatic moonstone festoon necklace from the Arts & Crafts era (ca1910)! This decorative piece is made of silver gilt and is comprised of beautiful moonstone links that form an elegant festoon necklace. Each moonstone cabochon is individually prong set in and open frame, allowing the light to pass through. Long strands of moonstone links hang from the center, three of which form trefoil-shaped clusters at the base and have swirled accents above. At the back of the piece are two strands of silver chain that meet at barrel shaped push clasp.  This magnificent necklace drapes beautifully along the neckline when worn and is a wonderful example of Arts & Crafts era jewelry!
Measurements:
The necklace measures 16.5" long. The longest center strand hangs 2 1/4" long in the middle. Each moonstone cabochon has a 1/4" diameter.
Condition:
The overall condition of the necklace is excellent. Besides normal surface wear, there is no apparent damage to the silver gilt setting or to any of the moonstone cabochons, all of which are intact. The push clasp fastens securely and is in good working condition.