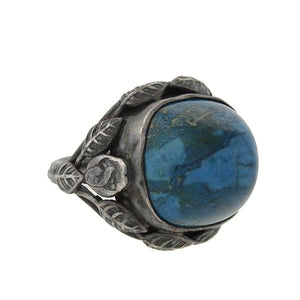 A wonderful and artistic ring from the Arts & Crafts (ca1910) era! This hand wrought ring is crafted in silver, and boasts a lovely nature-inspired design. A cabochon sodalite stone rests at the center, exhibiting a wonderful range of marbled blue colors. Surrounding the polished stone is a bezel setting adorned with multiple leaf accents. The 3-dimensional leaf design overlaps at the shoulders and wraps around the sides, creating a wreath-like appearance. Completing the design is a stacked wire band in the back. When worn, the central stone rests prominently above the finger, making a fantastic statement piece!
Measurements: The ring has a finger size of 4, but could be resized if desired. The stone rests 1/2" above the finger when worn.
Condition: The overall condition of the ring is excellent. Besides normal surface wear, there is no apparent damage to the silver setting or to the stone, which is intact and free of chips or scratches. There is a natural patina on the surface of the setting that provides a darkened, antique appearance to the silver. This is normal for antique jewelry, but the piece could be polished if a brighter look is desired.