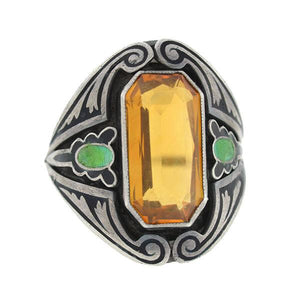 A wonderful citrine and enamel ring from the Arts & Crafts era (ca1910)! Resting in the center of this striking piece is a faceted citrine stone set in sterling silver. The citrine displays a beautiful golden yellow color and is held in a bezel setting with clipped corners for a geometric look. Surrounding the stone is a decorative black and green enamel border, which is comprised of swirls, arches, and delicate cutouts that created a multi-dimensional effect. The enamel design, which is reminiscent of black tracery, travels along the side edges of the ring where the shoulders meet the band, which is simple and smooth. Quite an artistic piece, this fabulous ring makes a statement when worn and would compliment any jewelry collection!

Measurements: The face of the ring measures approximately 1" tall, and is slightly more than 3/4" wide. The ring has a finger size 6.25, but could easily be re-sized.

Condition: The overall condition of the ring is excellent. Besides normal surface wear, there is no apparent damage to the sterling setting or to the citrine stone, which is intact. There is some slight wear to the enamel, which is normal for a turn-of-the-century piece, however there are no chips or scratches evident. The sterling silver has a natural patina, which is normal and adds depth to the design.