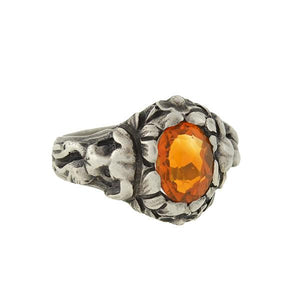 This beautiful citrine ring from the Arts & Crafts era (ca1900s) has an artistic representation of a hunting motif! The sculpted setting is crafted in sterling silver, and has a naturalistic design complete with textured leaves and petals. The shoulders of the band each feature the face of a hunting hound dog, whose features are depicted in raised repousse detail. Both dogs have floppy ears and hold a bird within their clenched mouths, the trophy of a recent hunt. Resting at the center of the ring is a gorgeous madeira citrine stone, which is beautifully faceted and contained within the decorative mounting. polished into a smooth oval cabochon. The citrine exhibits a rich, saturated natural orange color, which catches the light perfectly for a lively sparkle. Completing the design is a smooth tapered band in the back. A fantastic unisex ring, it would make a marvelous addition to any antique collection!
Measurements: The ring has a large finger size 8, but could be resized if desired. The ring measures 5/8" wide at the front, and the tapered band measures 4mm wide at the back.
Condition: The overall condition of the ring is excellent. Besides normal surface wear, there is no apparent damage to the sterling setting. The citrine stone is securely set and free of surface chips or scratches. There is a natural patina on the surface of the silver, which is normal for antique jewelry, and adds additional depth to the textured repousse design.