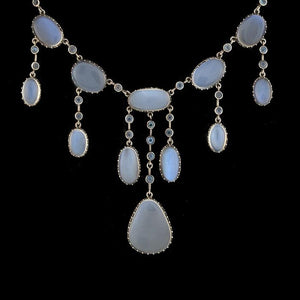 A dramatic festoon moonstone necklace from the Arts & Crafts era (ca1910)! This incredible piece is crafted in sterling silver and comprised of stunning moonstone and aquamarine links that form an elegant festoon necklace. The necklace displays a moonstone chain which rests beautifully along the neckline, graduating slightly in size, with the largest set in the center. Each is oval in shape and prong set and alternates with small, bezel set aquamarine stone spacers in between. The moonstones have a wonderful translucent quality with vibrant blue flashes which look stunning when paired with deep aqua blue color of the aquamarine stones. Nine long strands of moonstone and aquamarine links hang from the seven center moonstones, creating a fabulous festoon design. A single large teardrop moonstone hangs from the very center, set below four aquamarine stones while the remaining festoon links hang from two aquamarines. The necklace fastens at a hidden clasp which is incorporated into the design and there is a clasped safety chain for added security. This magnificent necklace drapes beautifully along the neckline when worn and is a wonderful example of Arts & Crafts era jewelry!
Measurements:
The necklace measures 18" long. The longest center strand hangs 2 7/8" long in the middle and the shortest strands hang a little more than 1 1/2" long. The large teardrop-shaped center moonstone measures a little less than 7/8" at the widest, is 1" tall and has a depth of 1/8".
Condition:
The overall condition of the necklace is excellent. Besides normal surface wear, there is no apparent damage to the sterling silver setting or to any of the aquamarines or moonstone cabochons, all of which are intact. The push clasp and safety chain fasten securely and are in good working condition.