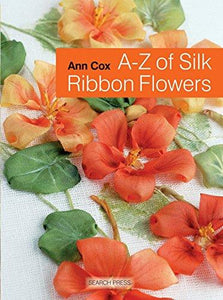 Author: Ann Cox
Brand: Search Press
Features:
Search Press: A-Z Of Silk Ribbon Flowers
From Aquilegia to Zantedeschia Anne Cox's beautiful flower embroideries exquisitely worked using silk ribbon are showcased in this delightful book
This book contains thirty-two different flower designs with detailed step-by-step instructions and stunning close-up photographs
ISBN: 1844489973
Number Of Pages: 128
Publisher: Search Press
Release Date: 2013-12-01
Details: NEW IN PAPERBACK
From Aquilegia to Zantedeschia, Ann Cox's accomplished renditions of flowers using silk ribbon embroidery are showcased in this exquisite book. It begins with a comprehensive techniques section that includes all the basic techniques you need to know to make all the flowers in the book, including materials; how to handle and work with ribbon; transferring a design to the fabric using a template; the various ribbon stitches and gathering techniques used; and painting ribbons and backgrounds to achieve different effects. The main body of the book then describes clearly how to create thirty-two different flowers, including leaves, stems and buds, using detailed step-by-step instructions and stunning close-up photography. Each design has a template, and diagrams and ideas for variations on the main design are also included where necessary. A fantastic, inspirational book for flower lovers and silk ribbon embroiderers alike.
UPC: 693508008632
EAN: 9781844489978
Package Dimensions: 11.4 x 8.4 x 0.4 inches
Languages: English