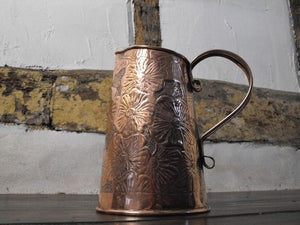 Origin: English
Period: Arts and Crafts
Provenance: Unknown
Date: c.1900
Height: 9 inches
Circumference: (at maximum) 18 inches
A hammered and punched copper jug, of tapering cylindrical form, decorated with a beautiful all over design of large flowing flower-heads, in relief, on a punched ground.  The jug has its original fluted handle, a good patina, and no areas of restoration. It bears the stamp 'K S I A' on the underside.
The Keswick School of Industrial Art was begun in 1884 by Canon Rawnsley, a good friend of John Ruskin, whose writings and art served as the foundation of the Arts and Crafts movement. Spurred on by the resistant attitudes of some Victorians towards industrialisation, the school laid emphasis on creating honest hand-made objects, using traditional, simple materials, and with decoration inspired by nature. Ironically, and sadly, in the 1960s the Keswick School was persuaded to purchase machinery, to increase production in order to fend off competition from cheaper imported stainless steel objects.
However the competition finally overcame the School, and in 1984 it closed after 100 years of existence.This jug perfectly exemplifies the Arts and Crafts aesthetic – copper has been used to create objects for millennia; the flower design is bold, and without constraint (its flowing lines point a finger towards the art nouveau style); and the jug is simply and honestly constructed by hand.
An expressive and attractive example from the Keswick School, and a wonderful example of period design.