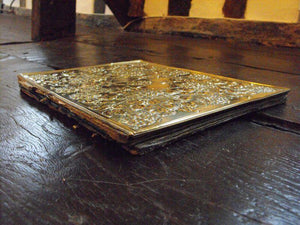 Origin: English
Period: Arts and Crafts
Provenance: Unknown
Date: c.1890
Height: 11.5 inches
Width: 9 inches closed or 18 inches open
The upper cover of brass with profuse foliate decoration, including intertwining vines, leaves and grape bunches, opening to green watered silk endpapers, the lower cover of black leather. Blotters were an essential piece of stationary until the invention of the ballpoint pen by Lazlo Biro in 1938. The interior would have housed several sheets of blotting paper, and when a letter was written in pen and ink, the letter would have been inserted into the blotter, and pressed.
The blotting paper would have absorbed all the excess ink, leaving the letter dry, and not prone to smudges. It must be said that the spine of this blotter is defective, and there are traces of old polish to the brass, but this is still a very bright and attractive example of Arts and Crafts brass work.