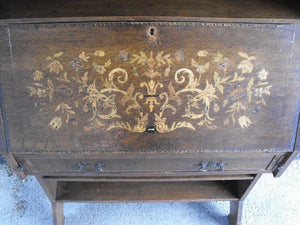 Origin: English
Period: Arts and Crafts
Provenance: Unknown
Date: c.1880-1900
Width: 86.5cms
Height:148cms
The top comprising a shaped apron with spandrels at corners each simply carved with an identical floral motif, above two open bookshelves, the bureau door attractively inlaid with sandalwood and various fruitwoods depicting foliate scrolls and flowerheads, opening to a galleried fitted interior with two drawers, above a freize drawer and two open book shelves below. There are a few old scuffs, marks and scratches, a little more so around the escutcheon, but nothing overly detrimental. Overall the bookcase is in very good condition.
The Arts and Crafts movement grew out of dissatisfaction with mass-produced and often superfluously decorated furniture of the Victorian era, and designers sought to create quality pieces with restrained unpretentious decoration, using for inspiration mediaeval craftsmanship and motifs which were often floral, as in the present example.