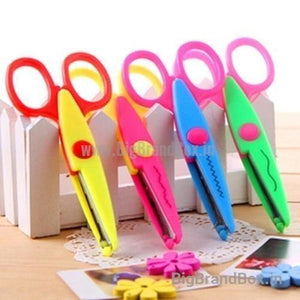 Multicolor ZigZag Art & Crafts Border Edge Decorative Paper Cutting Scissors Set
Product Description
Each Scissor Has a Unique Blade Design Pattern Which Is Printed On The Scissor Itself.

ABS Plastic Handles and Stainless Steel Cutting Blades. Blades Lock In Place For Cutting.

Lightweight and Easy To Handle.

Give Beautiful Edges To Greeting Cards, Photo Frames, Designs For Scrapbooks, Gift Boxes and Much More.

Package Includes 4 Pcs ZigZag Cutting Scissors. Colors And Design May Vary From Illustrations

Make your decorative paper craft stand out with this 4 Pcs Color ZigZag Scissor Set. 

Give attractive edges to chart papers, greeting cards, photo frames and design attractive designs for scrapbooks, gift boxes and much more.

Each scissor has a unique and different design pattern. The cutting pattern is printed on the scissor itself.

The handles are made of ABS plastic and the blades are made of stainless steel. They are lightweight to handle, so that kids can grip them comfortably. Blades lock in place for cutting.