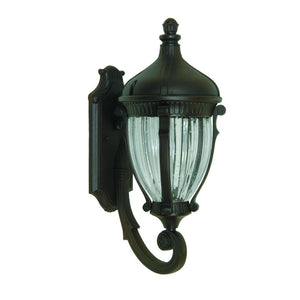 Anapolis small wall sconce, featuring die cast aluminum, rust resistant copper screws, environmentally friendly durable oil bronze finish and optic clear glassware
Room(s): Exterior Lighting
Style: Traditional Outdoor
Material: Cast Aluminum
Bulb Included?: No
Bulb Quantity: 1
Bulb Max Wattage: 100
Bulb Dimmable?: Yes
Bulb Base: Medium Base
????
Specifications
Canopy/Back Plate Size: L: 13 1/2, W: 5 in.
ETL Rated for Wet Location
Warranty 5 year warranty against premature paint defects and a 25 year limited warranty against corrosion. Artcraft products are made of the finest material available and are carefully manufactured with old fashion Artisans using the most advanced techniques in order to provide you beautiful lighting. Although user serviceable items like bulbs, ballasts and transformers do require periodic replacements, we use only the highest performance components available. We thank you for choosing Artcraft.
Country of Origin: China
????
Dimensions
Width (in.): 12.5
Length (in.): 9
Height (in.): 22
Extension (in.): 12.5
Weight (lb.): 16