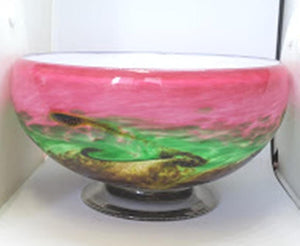 Arte Vargas Handcrafted Glass Footed Bowl
. Daniel Vargas has been blowing glass for over 4 decades.
Signed by the artist

Handcrafted in Canada

Approximately 4-1/8" high x 7-5/8" diameter. Price is for ONE only

Clean by washing with lukewarm soapy water. Dry with a soft cloth.

Each piece is one of a kind and may not look exactly as the one pictured. Color may vary slightly.