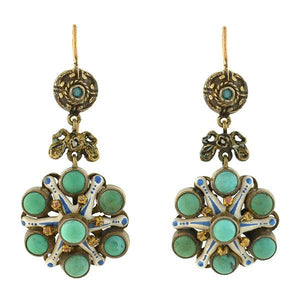 Magnificent Austro-Hungarian earrings from the Arts & Crafts (ca1910) era! Crafted in gilded sterling silver, these beautiful and unique earrings display a flower-like shape and an incredibly ornate design. Each earring begins with a round domed surmount featuring textured details and a delicate turquoise colored glass bead at its center. Each round topper attaches to a gold-filled earring wire and dangling below is a feminine bow-shaped link which has a small natural pearl that rests within the center. Completing the look is a large flower-like link which swings freely from the base of each earring. The fabulous design features six gorgeous cabochon turquoise stones, encircling a seventh stone at its center, all bezel set and accented by fine milgrained details. The stones display beautiful green and blue hues and surrounding the center stones are six raised gold beads displaying hints of pink enameling. Six white enameled rays painted with blue dots and lines are interspersed between the turquoise stones, finish the magnificent look. The attention to detail is superb, including a spectacular filigree design on the back of the gilded silver setting. These wonderfully elaborate and unusual earrings are a great example of traditional Austro-Hungarian jewelry and would make a special statement!
Measurements: Each earring hangs approximately 2 1/8" long (including the wire), measures 1" at its widest point, and has a depth of approximately 1/2".
Condition: The overall condition of the earrings are good. Besides normal surface wear, there is no apparent damage to the sterling gilt setting gold wire, or turquoise stones all of which are secure and intact. Given the age of these earrings, there is some light surface wear to the enameling, however, it is hardly noticeable when worn.