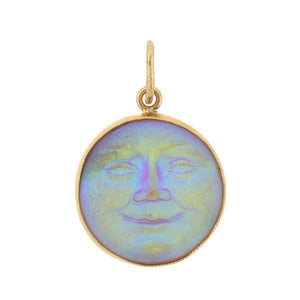 A wonderful "Man in the Moon" pendant from the Arts & Crafts era (ca1900)! This whimsical compilation piece features an alluring art glass center set in a handmade 14kt gold bezel frame. The design portrays a recognizable "Man in the Moon" face, which has intricately carved facial features for a realistic 3-dimensional look. The translucent art glass face rests in a closed back setting, with light milgrain lining the border. The alluring art glass has a soft iridescent quality, emitting a mesmerizing range of soft colors that flash when turned in the light. Included are shades of green, blue, violet, peach, and gold, which almost seems to glow from within. The shimmery quality of the color is difficult to capture in a photograph, but is quite lovely in person! At the top of the pendant is a simple gold loop bail, perfect for hanging the piece from a favorite chain. This mysterious piece is very unique, and would make a special addition to any collection!
Measurements: The entire piece hangs 1 1/8" long, including the bail at the top. The pendant itself has a 3/4" diameter, and is 1/4" thick.
Condition: The overall condition of the piece is excellent. Besides normal surface wear, there is no apparent damage to the gold setting or to the carved art glass, which is securely set and free of chips or scratches.