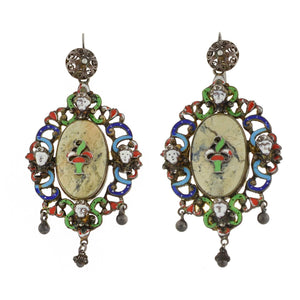 In 17th century Paris, theatrical audiences were very familiar with "Pierrot," a stock character that appeared frequently in commedia dell'arte stage productions. Troupes of Italian players performed in scenes featuring these well-known characters, which are still widely used in theatrical productions in the modern day. Pierrot represents a sad, expressive clown, who yearns for the love of a woman named "Columbine," another familiar stock character. He has been depicted in several fashions, but is generally shown unmasked, with a painted white face, loose buttoned blouse, and simple skull cap. At other times, he has been costumed more elaborately, wearing a wide, frilly collar and pointed jester's hat. 
Magnificent Austro-Hungarian "Pierrot" clown earrings from the Arts & Crafts (ca1910) era! Crafted in .930 purity silver, these elaborate and unique earrings are particularly large in size and dangle with lovely movement. Each features a gorgeous oval-shaped jasper stone at the center of a colorful enameled border. The smooth stones exhibit a creamy light brown hue with veins of navy blue, gray, and black marbling and riveted through the center of each is a lovely basket-shaped plaque, adorned with bright green, orange, and white enameling. A flowing, enameled wirework border surrounds each oval-shaped stone, creating delicate cutouts and a scalloped edge. The enameled border is embellished with similar bright colors with the addition of dark and light blue hues, creating a vivid color scheme. Four 3-dimenstional Pierrot clown busts rest symmetrically atop the border, whose faces are decorated with white enameling. A silver cap sits on top of their head and a decorated collar completes the motif. Finishing the look are three silver accent beads that dangle from the base, adding wonderful movement to the design. Each earring hangs from a domed filigree surmount, attached to simple wires at the top. Stamped on the back of each earring is a "935" silver purity mark. These beautifully elaborate and unusual earrings are a great example of traditional Austro-Hungarian jewelry and would make a special statement when worn!
Measurements: Each earring hangs approximately 2 7/8" long (including the wire at the top), measures about 1 3/8" wide, and 1/4" thick. 
Condition: The earrings are in good antique condition. Besides normal surface wear, there is no apparent damage to the sterling silver setting. The jasper stones are intact and securely set. The earring wires are secure and in good working condition. There is some light chipping to parts of the enameling, however, it is hardly noticeable when worn and does not distract from the overall beauty of the earrings.