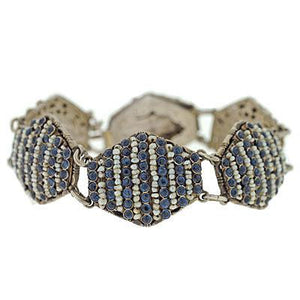 A beautiful Arts and Crafts Hungarian sapphire and seed pearl link bracelet from circa 1910! The piece, which is made of sterling silver, is comprised of 6 hexagonal shaped links. Each link is encrusted with 13 alternating rows of natural seed pearls and sapphires. The sapphires are all bezel set and have a rich blue color and the seed pearls are strung on a thin wire and are able to move slightly. The links attach to each other by two silver rings and the back of the bracelet is decorated with an ornate design. The clasp is hidden within one of the seed pearl and sapphire links. It rests nicely on an average sized wrist. A simple yet beautiful piece, this bracelet would make a great addition to any collection!
Measurement: The length of the bracelet measures approximately 7 1/2" long. Each link measures approximately 1" wide, 7/8" tall and has a depth of a little less than 3/8".
Condition: The overall condition of the bracelet is excellent. There is no apparent damage to the silver setting and all of the pearls and sapphires are intact. The clasp is secure and in good working condition.