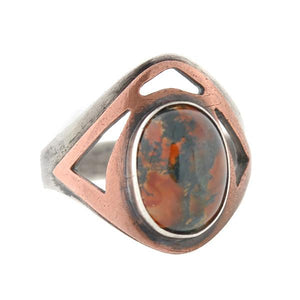 A lovely and unusual agate ring from the Arts and Crafts (ca1910) period! This wonderful ring is has a overlapping sterling and copper mounting and holds a single agate cabochon at the center. The agate has burnt orange and dark olive hues and is slightly translucent. The combination of the mixed metals gives the piece a wonderful look and the ring looks striking on. It would make a perfect addition to any jewelry collection!

Measurements: The belly front sterling and copper setting measures approximately 3/4" wide and 3/4" tall. The ring has a finger size of 7.75 but could be re-sized.

Condition: The overall condition of the ring is excellent. Besides normal surface wear, there is no apparent damage to the sterling and copper mounting or to the agate stone.