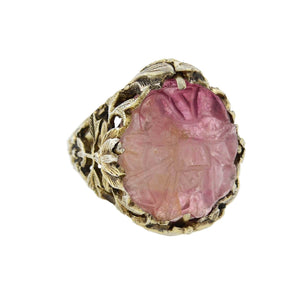 A gorgeous and highly artistic ring from the Arts & Crafts era (ca1910)! Crafted in sterling silver gilt, the ring frames a tourmaline stone at the center of an elaborate mounting. The tourmaline is hand-carved with floral details, and displays a beautiful range of natural pink shades. The decorative setting is comprised of incredible filigree work, complete with lacy cutouts and lightly etched accents. The overall effect is stunning, allowing the floral motif to come to life with blooming flowers, flowing branches, delicate leaves, and juicy grapes. As the shoulders taper in towards the back, they extend into a smooth, adjustable band. When worn, the ring makes quite an eye-catching statement piece!
Measurements: The ring currently fits a finger size 5.5, but is self-adjustable at the back of the band, allowing it to accommodate a finger size of 7 or more. The tourmaline centerpiece measures approximately 3/4" tall, 5/8" wide, and rests about 1/2" above the finger at highest point.
Condition: The overall condition of the ring is excellent. Besides normal surface wear, there is no apparent damage to the silver gilt setting or filigree details. The tourmaline stone remains intact, securely set, and free of any visible chips or scratches. There is some light fading to the original gilt finish, which could be entirely removed or restored if desired.