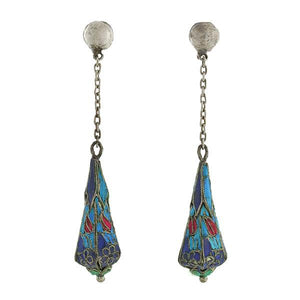 Tian-tsui which translates to "dotting with kingfishers" is a style of Chinese art using feathers from the beautiful kingfisher bird. For 2,000 years, the Chinese have been using the iridescent blue feathers as an inlay for fine art and jewelry. While many collectors have focused on other areas of Chinese art like porcelain, sculpture, and lacquer ware, kingfisher art is relatively unknown outside of China. The process involves delicately cutting and glueing feathers onto gilt silver to create each unique piece.
A very unusual pair of "tian-tsui" earrings from the Art Deco era (ca1920s)! Crafted in sterling silver, these stylish drop earrings of Chinese origin feature a colorful design decorated with kingfisher feathers. Veins of silver gilt create cells of floral accents and shapely patterns as the feathers display incredible shades of vibrant blue and red hues with a natural iridescent sheen. The 3-dimensional links are vessel-shaped, and dangle freely from a chain extension. At the top are simple round surmounts with posts hidden on the back. When worn, the earrings dangle with long, lovely movement, framing the face dramatically. A gorgeous and rare find, they would make a wonderful addition to any jewelry collection!
Measurements: The earrings hang 2 1/4" in total length, including the tops. The feathered links at the base are 1 1/4" tall, and measure 3/8" wide and thick at the base. The circular surmounts measure 1/4" in diameter.
Condition: The overall condition of the earrings is excellent. Besides normal surface wear, there is no apparent damage to the silver setting or to the inlaid feathers, which remain intact and well-preserved. The earring posts and backs are intact and secure.