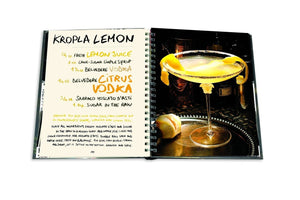 ASSOULINE CRAFT COCKTAILS
Michelin three-star mixologist Brian Van Flandern, world-renowned for creating innovative cocktails using fresh, exotic ingredients for famed chefs Thomas Keller, Mario Batali, and Michel Richard, launched Craft Cocktails, published by luxury lifestyle brand Assouline, which explores the new golden age of the cocktail as a culinary art form. Brian Van Flandern shares some of his famous recipes, from garnishes and glassware to temperature and balance. His original recipes can be found at bars in New York, London, Paris, Hong Kong, Singapore and dozens of other major cities around the world. Craft Cocktails is a must-have for every swank host and aspiring mixologist.
Dimensions: W 24.4 cm, L 29 cm, D 2.4 cm. 140 pages. 70 illustrations. Materials: Spiral-bound hardcover.