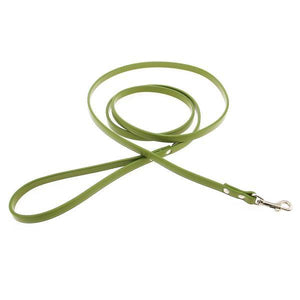 A durable classic leather leash will nicely match many of our dog collars! Auburn Leathercrafters' Town Leash is a full grain bridle leather dog leash constructed with beveled and hand finished edges for comfort. Assembled with bright nickel-plated hardware, a smooth action swivel bolt snap and capped rivets.

Simple. Elegant. Just right for any occasion.

You can count on a quality leather dog collar and leash to last and last!

The 1/2″ width is great for small and medium dogs (a Pomeranian or Yorkshire Terrier, for example), while the wide collars are perfect for Beagle, Labs, and Danes.

Sizes: 1/2″ X 48″ and 72″; 3/4″ x 48″ and 72″

Proudly Made in the USA!