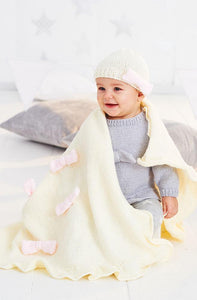 Three patterns for a jumper, hat and blanket in Stylecraft Wondersoft Stardust DK.
Available in either leaflet or digital format.
Stylecrafts Wondersoft range welcomes its newest member; Wondersoft Stardust.  As the name alludes, Wondersoft Stardust has a thread of sparkle entwined within the yarn adding a shimmer and twinkle.  Available in an array of shades including traditional baby pastels, bright rosebud and ever popular silver making it the ideal yarn for a variety of baby garments and accessories.