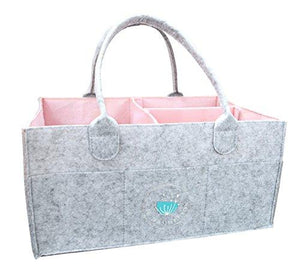 Brand: Lil Dandelion
Color: Pink
Features:
❤ TRENDY STORAGE BASKET ORGANIZER FOR ANY NURSERY: Our classic multi-purpose storage organizer's unisex gender neutral modern cool design compliments any nursery décor. You can store regular or cloth diapers, wipes, bibs, onesies, baby toys, burp cloths, pacifier binky, teethers, security blanket, books, diaper rash cream and more!
❤ LARGE FOR ALL DIAPER SIZES & VERSATILE DESIGN: While other portable diapers are too small, our lightweight yet sturdy tote bin is 15 x 10.5 x 7" (Larger than most other brands) that fits diapers from newborn to toddler. You can use it for both kids at the same time.
❤ STURDY & KEEPS IN SHAPE: Lil Dandelion uses high quality felt and our special construction ensures tote basket in shape even when not filled completely; unlike some other ones on the market.
❤ MULTI-PURPOSE: Portable diaper caddy to carry around the house, sturdy travel car organizer, breast pump storage basket, baby books and toys organizer, or even office art craft organizer. You can easily repurpose this after your baby outgrow their diapers.
❤ GREAT BABY SHOWER GIFT BASKET: A practical gift for any new mom, one of baby registry must haves. Use this to make a baby shower gift basket -fill it with diapers, onesies, binky, security blanket or anything you think the new mom would need.
Publisher: Lil Dandelion
Details: Our caddy is designed to simplify the diaper changing process. The diaper storage basket features a removable insert to maximize versatility. It also includes 8 smaller compartments on the outside of the basket for additional storage. We know that along with flexibility, style is important for the modern mother. So we designed our storage basket to blend in with any environment. The caddy features safe, durable and stylish felt and is lightweight enough to be carried around the house. You change a lot of diapers and organization is essential. Click the "Add to Cart" button and simplify your life.
UPC: 753070307103
EAN: 0753070307103