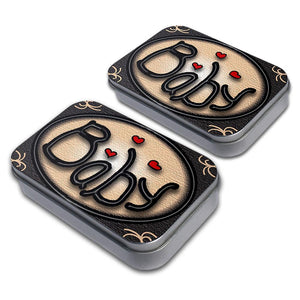 Admit it. You're kind of sentimental and you've been longing for a fun spot to store your treasured trinkets. It doesn't have to be anything big or fancy, but a boring box just won't do. And now you've finally found something just right in this set of two, small Made On Terra decorative tins. The lid is printed with a fun design that expresses you just so and it comes off easily to reveal a small space to keep your cool stuff. It's simple, but perfect. You know that the tins also make great packaging for gift cards, jewelry or other small gifts, but you're not sure you're willing to give them up just yet. No one would blame you for that.

Made of light-weight metal, the Made On Terra decorative tin will store your trinkets with style.

Choose from Made on Terra's many fun tins.
Inner dimensions measure 3 3/4"" x 2 1/4"" x 3/4""
Made of light-weight metal
Set of two