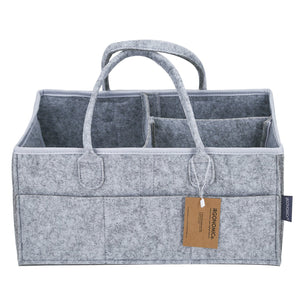 Click Link Below To Purchase On Amazon
THE DIAPER STAGE: Perfect as a diaper changing caddy, nursery storage, portable pumping station, or for a diaper organizer. That's why so many of our customers keep one on every level of their home!
DIAPERS IN THE PAST? You'll love the value from bonus uses like Portable Car Caddy, Craft Caddy, Tailgate Party Caddy, Dorm Caddy, Laundry Caddy, Bathroom Caddy, Tool or Gardening Caddy and more!
DESIGNED IN THE USA: During our design process we apply American Sizing Standards so our Large Caddies Measure 15x10x 7(inches) and stay true to size. Order yours today with complete confidence!
PREMIUM QUALITY: Made with High-Quality Double Layered Felt that feels Clean, Crisp, and Smooth. Weight tested up to 35 lbs our Caddy is handmade using heavy-duty stitching and strong handles.
GIVE THE GIFT OF A SMILE: Each Caddy sold, iRGONOMICo donates a portion of the profit to , a nonprofit fighting to provide dental care for underprivileged children in the US.