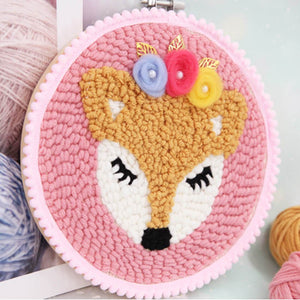 This punch needle kit for beginners and professionals includes everything you need to create a beautiful punch needle piece, along with detailed instructions and troubleshooting tips to keep you hassle free!

Please note that our punch needle kits are re-usable. You just need to purchase more yarn and punch needle fabric.

Each item takes several hours of work - our goal is to create little items that bring a bit of colour to your desk, counter, bureau, wall.

In the punch needle kit, we make sure to include enough yarn for everyone to be able to cover any beginners mistakes.

Never punched before? No problem! Order this and get started.


Specifications:

.Color: As Shown
.Material: Knitting Wool + Cloth
.Product Weight: 450g
.Package Dimensions: 20 x 20 x 5cm
.Package Weight: 500g
.Packing: PVC Bag

Package Content:
.1 x QR code(Tutorial Video)
.1 x Cotton Thread Pack
.1 x Embroidered Cloth
.1 x Punch Needle
.1 x Embroidery Frame
.1 x Glue