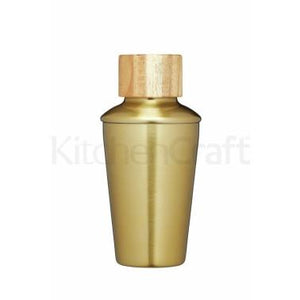 This elegant stainless steel brass finish 250ml mini cocktail shaker will be a unique gift for anyone that likes to enjoy mini versions of classic and popular drinks! After a long day it's the tool you need to concoct the perfect mini martini or other mini cocktail and pour it in style!Kitchen Aidsw
Shaking and not stirring is a sure fire way of looking cool and in control of the drinks cabinet at the same time, creating drinks in style with this brass finish mini cocktail shaker.
Everyday essentials for the bar at home, Bar Craft offers a selection of bar essentials to bring the fun inside your home. Covering wine, cocktails, spirits and so much more, Bar Craft is the perfect choice when wanting to relax at home, feeling refreshed and revitalised.