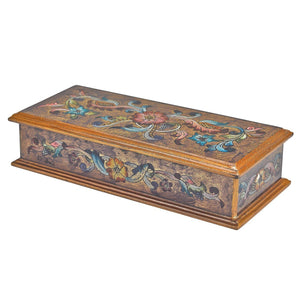 The beautiful boxes are gorgeous little gems and can be used for keepsakes, jewelry, pens, a remote control etc. They are produced thru the Spanish Traditional Art of Reverse Painting on Glass (also known as Eglimose) executed by our Peruvian artisans. Their labor yields this gorgeous precisely detailed decorative design on the glass. The glass is then inlayed into the handcrafted wood frame. Finally, the piece is hand finished with putty and paint. They are heirloom quality of gifts or decor. Eglimose- Completely Hand Crafted Environmentally Sustainable All Natural Components Peruvian Reverse Painting on Glass Gorgeous Keepsake Box Use for Pens, Remotes or Jewelry Too!
Baroque Handcrafted Keepsake box 9.5x4x2' brings beauty and function together. Hand-decorated by the finest artisans in the world, this collection is produced from all natural minerals and fully recyclables.
With this superior quality and style, you can never go wrong with these exquisite works of art as a gift for yourself or for someone dear.
Specifications
Handcrafted
Natural materials
Keywords: artwork, designers gift, Oriental