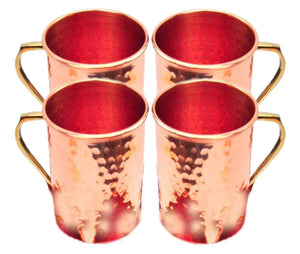 BARREL CRAFTS Moscow Mule Beer Mug 100% Pure Copper Original Vodka and Ginger Beer Drink Mugs Cups Capacity 16 Oz with Brass Handle Pack of 4
---
Product Details
Brand: BARREL CRAFTS
Model Number: BCG-9114
Colour: Copper
Capacity: 16 fluid_ounces
Material: COPPER
Auto Shutoff: No
The cup holds16 fl.oz has a tag welded brass handle
A cocktail connoisseur knows that only way to properly serve drinks is with a copper mug / tankard / stein because copper enhances the flavor of the drink and mixed drink stays colder, longer. A beautiful handcrafted addition to any home bar.
Mug is 16 oz. Stunningly Beautiful And Handcrafted. Hammered Copper Mugs With 100% Pure Copper. We Use Welding To Attach Handle As This Makes It Easier To Clean. Riveted Handles Are Harder To Clean Around Rivets And Attract Bacteria Posing Danger To Health And Also Are Notorious For Leakage
Pure Copper Original Vodka And Ginger Beer Drink Mugs Cups Capacity 16 Oz Set of 4.
Made of heavy gauge hammered copper. The cup hogreat for beer too. Polished brass handle.the ageless use of copper ware testimony to its myriad virtues and everlasting appeal. Its therapeutic value has been handed down to us through the ages. In fact, water stored in copper ware is virtually the elixir of life. Purified, it helps to regulate digestion and cardiac orders, the basis of good health, as practiced by ayurveda from old vedic times. It has been known for thousands of years that copper metal can inhibit the growth of bacteria, viruses and fungi. Our scriptures recommend drinking of four glasses of water stored overnight in a copper utensil every morning. The mugs are lacquer quoted both inside and outside to protect the copper from getting tarnished.