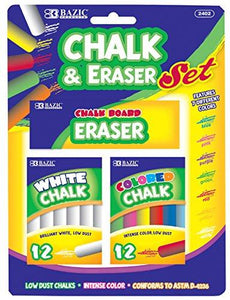 BAZIC 12 Color & 12 White Chalk w/ Eraser Set for School, Crafts, or Outside Play.
---
Product Details
Number of Items: 1
Brand: BAZIC
MPN: 2402
UPC: 764608024027
EAN: 0764608024027

Brand Name: BAZIC
Item Weight: 5.4 ounces
Product Dimensions: 7.4 x 1.2 x 10.2 inches
Item model number: 2402
Color: Assorted Color/White
Number of Items: 1
Size: 1
Manufacturer Part Number: 2402
Shipping Weight: 6.4 ounces
Domestic Shipping: Item can be shipped within U.S.
Date First Available: April 6, 2006
COLORFUL CHALK SET W/ ERASER. Each order comes with both white and colorful chalk. With blue, pink, purple, green, red, and yellow shades, plus an eraser, you can bring color to your life.
CHALK IT UP. Get long-lasting, high-quality pieces that are non-toxic and easy to write with. This set cleans up off chalkboards with ease for a colorful display to brighten any day.
REPUTATION + RELIABILITY. BAZIC Products has been offering uncompromised quality in school and office products since 1998. Dedicated to continuous improvement, we are proud to be an ongoing industry-leader.
TRUE TO OUR VISION. By focusing on the integrity of our products and satisfaction of our customers, weve built a brand you can trust. We use customer insight to guarantee solutions to fit your needs.
SOLD & DISTRIBUTED IN THE USA. Working with trusted factories, we ensure our products are up to the highest standard before sending to customers. Each item is shipped out of our headquarters in Los Angeles, never leaving until were satisfied with our product integrity.
Number of Items:1 BACK TO BAZICOur goal is to provide each customer with long- lasting supplies at an affordable cost. Since 1998, we've delivered on this promise and will only continue to improve every year. We've built our brand on integrity and quality, so customers know exactly what to expect. COMMITTED TO VALUESWe are a value-driven company, guided by the principles of excellence through strong product design at low cost. Our commitment to these values is reflected in our dedication to improving current products and developing new exciting products for our consumers. IDEAL SUPPLIESOur currency is ideas. We thrive on imagination, passion and leadership. We have great products and will to continue to rise with our customer expectations. SUCCESS BASED ON SATISFACTIONEach and every product we send out, we expect our 100% customer satisfaction. While our supplies are sourced from all across the world, our success stems from individual consumer fulfillment. We create products that people want to recommend to others.