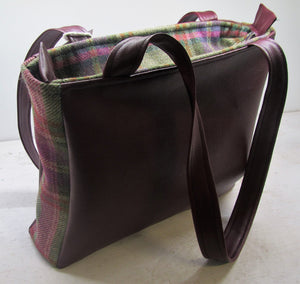 Beautiful handcrafted wine faux leather and Harris tweed handbag with two handles
With cream paw print lining and two inside pockets one zipped.this bag comes with two handles made from the material of the bag. 
Size 
Length - 29 cm
Height - 23.5 cm
Depth - 6 cm 
Handle length - 67 cm x two handles
Why not check out our wide range of beautiful handmade bags and purses. We also stock makeup and wash bags as well as nappy bags.
Crafty Gift Boutique only stock handmade items, made by crafters with a passion for perfection
Purchase your Beautiful handcrafted wine faux leather and Harris tweed handbag with two handles today