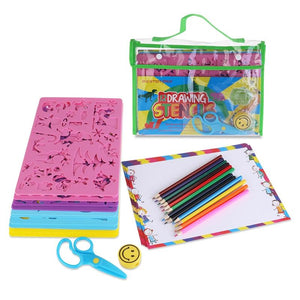 Description
 
The stencil kit features several original designs such as Lower and Upper Case Alphabet, Numbers, Letters, Flowers, Butterflies, Ponies, Kittens, Fairies, Princesses, Angel, Dinosaur, Farm & Wild Animals, Marine Creatures, Ships, Cars, Racing, Airplanes, Helicopters, Spacecrafts, Circus and Christmas among others.

Features
 
- Brand: BESTOYARD.
- Color: Mixed Color.
- Material: PP.
- Size: Approx. 26.6 * 18.6 * 5cm/ 11 * 7 * 2 inch (L*W*H).
- Contain 12 stencils, 12 colored pencils, 20 sheets of drawing paper, 1 Scissor and 1 sharpener. 
- Will keep kids engaged for hours effortlessly. With over 200 stenciling shapes, the kids will love to create fun pictures, gift cards, and posters for class as well as home decorations.  
- The plastic stencils with a number of easily recognizable designs are super thick for little kids, enabling them to correctly trace shapes and improve writing coordination.
- The drawing stencils for children are made from a solid material and come in a unique plastic case to prevent them from easy breakage.