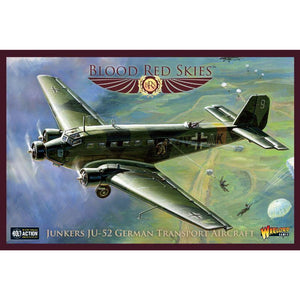 The venerable 'Tante Ju' (Auntie Ju) was slow and outdated at the beginning of WWII but it soldiered on as the Luftwaffe's most ubiquitous transport plane throughout the war.
The JU-52 was reliable and could carry a wide variety of loads, from much-needed equipment to the elite airborne troops - the Fallshirmjager!
Contains:
3 x Junkers JU-52 German Transport Aircraft
3 x Decal sheet
3 x Advantage Flying Base and extension
3 x Double-sided Pilot Skill discs
1 x Aircraft Card
1 x Assembly instruction leaflet
Scale: 28mm - 1/56th
Plastic
Please note that the models come supplied unpainted and unassembled.