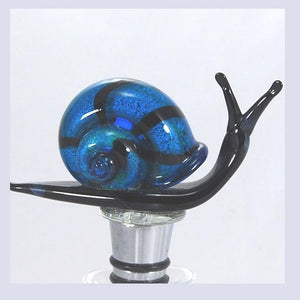 Add sophisticated style into function and make every moment special with beautifully designed hand sculptured glass figurines from Yurana Designs. Choose from diverse shapes of different animals, birds, fish and figurative art which are individually created by glass artists using variety of tools and techniques - no molds are used so you are assured that each piece is unique and no two pieces are exactly alike. Packed in a white gift box making it perfect for a gift. Give someone a pleasant surprise today!
Specifications
- Blue Snail Hand Crafted Bottle Stopper by Yurana Designs
- Fits a Standard 750 ml Wine Bottle (and most other bottles)
- Hand Crafted Snail Wine Stopper
- Has silicone rubber rings to prevent oxidation
- Hand wash only
- Packed in a white Gift Box – perfect gift for a Wine Lover and Art Lover too!
- With 150 unique designs of Figurine Glasses to choose from
Keywords: Yurana Designs, glass figurines, bottle stopper, snail