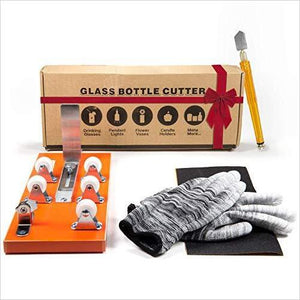 Details:
Quality Products For Better Living
Create your own table bottle lamps, nightlights and pendant lamps, or turn recycled wine bottles into colorful vases, drinking glasses, plant holders, wind chimes, and even hanging tea candle holders.
Enhance Your Crafting Experience Now!
- Does your bottle cutter not handle multiple bottle sizes or shapes?
- Is your bottle cutter a low quality product and will not get you a single straight cut?
- The cutting blades on your device just don't cut deep enough into the glass?
Do not waste your money on poorly made products!
Introducing Your Very Own 2018 Home Pro Shop Bottle Cutter to the Rescue!
2x More Durable Than a Conventional Bottle Cutter
★★★★★ Because you deserve the best! ★★★★★
✔ Built with the highest quality materials,it includes an ultra-strong carbide blade guaranteed for over 100.000 cuts
✔ Adjustable and easy to use, specially designed for cutting bottles and jars with the easiest adjustment system for up to 19.5 inch bottles
✔ Design includes 5 support wheels created specifically to better stabilize the bottle, for a more precise cutting.
✔ Includes all the accessories you need: instructions, glasspaper and a pair of cut resistant gloves for your protection
✔ The eco-friendly solution, a great innovation for those of you who embrace environment oriented choices.
Amazon Buyers Trust Our Devices to be Quality Premium Products.
You are Backed by Our Lifetime Warranty too!
GLASS CUTTER INCLUDED: Bundle package also includes a premium quality Glass Cutter, perfect for cutting glass or mirrors
BOOK INCLUDED: Package includes both Audiobook and eBook versions of the bestseller book "Save The Planet".
Now, for the first time ever, and only for a limited time, you can get this Special Pricing, So be Sure to Click Buy Now!
Features:
✔ HOME PRO SHOP GLASS BOTTLE CUTTER; Create your own table bottle lamps or turn used wine bottles into colorful vases, drinking glasses, plant holders, wind chimes, and even hanging tea candle holders; There are a ton of different uses for empty glass bottles; Express yourself in creative and imaginative ways with this fun and rewarding hobby! Our bottle cutter is built with the highest quality materials to the highest quality standards you should expect
✔ ADJUSTABLE & EASY TO USE; Light but solid, specially designed for cutting bottles and jars with the easiest adjustment system; Design includes 5 support wheels created specifically to better stabilize the bottle, for a more precise cutting; Easy to adjust length for up to 19.5 inch bottles; It includes an ultra-strong diamond carbide blade guaranteed for over 100.000 cuts; A great customer experience
✔ THE ECO-FRIENDLY SOLUTION; A great innovation for those of you who embrace the eco-friendly choices; Did you know that every month, we throw out enough glass bottles and jars to fill up a giant skyscraper? A modern glass bottle takes 4000 years or more to decompose. Do your part for the environment by reusing your bottles and jars to create wonderful decorations for your friends and family
✔ 100% CUSTOMER SATISFACTION GUARANTEE; Order with confidence! Lifetime Warranty included; In the off chance that you're not completely satisfied with your purchase, return it for a FULL REFUND! We are always available to help our customers
✔ BUNDEL PACKAGE: Bundle package includes a premium quality GLASS CUTTER. Along with these devices, you will receive all the accessories you need to use both your bottle cutter and glass cutter: instructions, glasspaper and a pair of CUT RESISTANT GLOVES for your protection; With your purchase you also get both AUDIOBOOK and EBOOK versions of the bestseller book "Bottle Art" (usually $30) to help get you started; The only bottle cutter on Amazon that includes an audiobook
Brand: HPST
Publisher: Pro Shop
UPC: 600140677294
EAN: 0600140677294
Package Dimensions: 12.8 x 5.2 x 2.5 inches