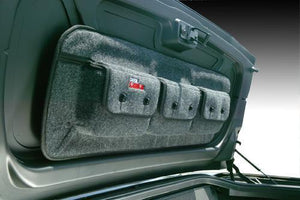 C6 Corvette Pocket Pods Storage
C6 Corvette Pocket Pods. Turn the unused space in your C6 Corvette, Grand Sport Convertible into usable storage in minutes with Pocket Pods. Pocket Pods are formed pockets that use carpet like material to form pockets that latch securely, and mount on the rear deck lid of your Corvette. Pocket Pods provide storage space for a variety of light weight items like maps, detailing equipment, emergency tools or whatever you have rolling around in your trunk. Pocket Pods are designed specifically for the Chevrolet Corvette and mounts in factory locations. Pocket Pods installs in minutes and requires no permanent modifications to your Corvette.
Fitment: Pocket Pods fit 2005 - 2013 Corvette Convertible
Product Note: Will not fit Corvette Coupe.