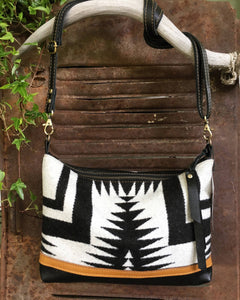 One of the most bold and dynamic of the Pendleton® prints, this bag embodies sass and spunk! 
The Amitahbha bag is made from luscious and supple vegetable tanned black leather and black and white genuine Walking Rock Pendleton® print with a tawny brown leather accent. 
Dimensions: 12" x 8" with a gusseted bottom.
Crossbody strap adjusts from 31"- 54" and is removable.
Details: Unlined on the inside with a 6"x9" pocket. The YKK zipper pull is attached to a strip of 3 layers of leather for easy open and close. Both straps are removable with swivel hooks. Brown leather accents set off the bottom and zipper pull. All stitching is done in brown.  All zippers, rivets, rings, and clasps come in antique bronze.
 *This bag is made to order and will ship in 5-7 business days after purchase*
Please note that leather is an organic type material. Meaning that many things happened to the leather in its previous incarnation as a live animal. Bug bites, scars, & brands are normal occurrences and add to the uniqueness and beauty of the hide. I never select parts of the hide that are damaged or have holes however, these other unique characteristics may be present. All items are edited to reflect the most accurate color. We cannot guarantee that your item will be the exact color your screen shows.