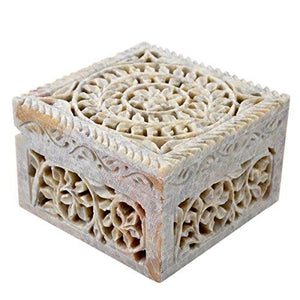 Brand: Hashcart
Color: Multi
Features:
Jewelry Box crafted from premium Soapstone, Variations in Color & Veins Are Appreciated As Natural Stone
Versatile Box measuring 4 inches in length by 4 inches in width by 2.5 inches in height
Store your personal jewelry like earrings, chains, pendants or rings and family heirlooms in royal style with this box and use it adorn your dressing table
Traditional Jewelry Box hand made by the skilled artisans of Agra- India's largest hub for high quality stone artifacts
Perfect for house warming gift, wedding anniversary gift, Christmas gift, thanksgiving gift, valentine's day gift, birthday gift, holiday gifts, mother's day gifts, graduation gifts and Easter gifts
Details: When you first glance at this hand crafted jewelry box you see a gorgeous piece of art. Designer stone handcrafted boxes are designed especially to complete the feminine desires to preserve the valuable jewelry & fragile items from moisture. Box dignifies the rich Indian heritage. This is a sleek and simple trinket jewelry box for everyday use. Measuring 4 inches in length by 4 inches in width by 2.5 inch in height, the Indian Jewelry Holder is the perfect small box for displaying anywhere from the dresser to the nightstand to the vanity. Keep your jewelry items like earrings, rings, toe rings, necklaces, bangles, chains safe and secure in this box. Also a multi utility box can be used to preserve precious items. The box is made by artisans from Agra, Uttar Pradesh, India which is internationally famous for this craft. Our handmade jewelry boxes make gifts for women and girls that can be treasured for a lifetime. The careful attention to detail makes the jewelry box more than just a place for storing earrings, bracelets, rings, necklaces and even coins. The piece doubles as a decorative item that can be displayed anywhere in the home. Thanks to the ideal size of our fine jewelry container, you can always pack it with you wherever you go and look stunning no matter where you are. Pack it in any bag or backpack and you can enjoy being a stunner on the go! Our antique jewelry holder is simply created to put smiles on women's faces. If you're looking for the perfect Birthday/ Anniversary/ Valentine's Day gift for your significant other half, or for a beautifully crafted jewelry case for your little girl. When you want to make simple and symbolic gifts to your friends and family, this trinket box may be just the right gift.